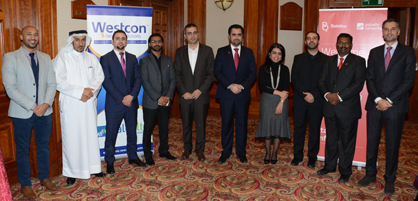 Batelco and Palo Alto Networks Host Successful Next-Generation Security Workshop
** Batelco Introduces ICT Security to key customers **

Batelco, the Kingdom's leading telecommunications solutions provider in partnership with Palo Alto Networks, held a successful Next-Generation Security Workshop on Thursday 15th January. The workshop tapped into critical security aspects like Datacentre Security, Network Security and Mobile Security.
Batelco translates its in-depth knowledge, vast expertise and wide range of international partners to deliver robust solutions, partnering with the world's leading solutions providers such as Palo Alto Networks.
Palo Alto Networks offers a natively integrated enterprise security platform that includes a next-generation firewall, cloud-based threat intelligence and advanced endpoint protection, helping enterprises and governments secure their organizations, detect and prevent both known and unknown threats, and safely enable an increasingly complex and rapidly growing number of applications.
A number of Batelco executives and representatives from Palo Alto Networks were in attendance at the one-day event. Over 50 IT managers, professionals and business executives participated in the workshop which was designed to provide a platform for interactive discussions and interactions on issues of significance to the organisations involved.
Batelco General Manager Enterprise Division Adel Daylami said," By understanding the current threat environment, participants can access and adjust their security measures to better protect critical data assets and business processes with comprehensive security strategies as well as programmes that balance risk and cost."
"Batelco, having the largest and most advanced IP infrastructure in Bahrain, is uniquely positioned to provide enterprises and governments with a comprehensive range of advanced ICT solutions to meet their communications and technology needs. Batelco's wide range of Enterprise Security Solutions includes Network Security, Content Security, End Point Security, Secure Access Control, Security Assessment and Consultancy," he added.
Batelco recognises that enterprise security is the key to achieving global information security in businesses. This is a great achievement that materialises all the milestones Batelco has achieved during 2014 and many years before. Batelco has been in the ICT business for over a decade with key strategic projects and customers included in its portfolio. The extensive ICT solutions that Batelco offers under one roof makes Batelco the ideal one stop solution provider for all information, communication and technology needs.
Batelco has played a pivotal role in the country's development as a major communications hub and today is the leading integrated communications' provider, continuing to lead and shape the local consumer market and the enterprise ICT market. The Company's comprehensive choice of products and services meets international standards and furthermore, Batelco's Business Enterprise team is capable of customising its products and services to meet the specific needs of customers, bearing in mind the different industries and sectors they operate in.