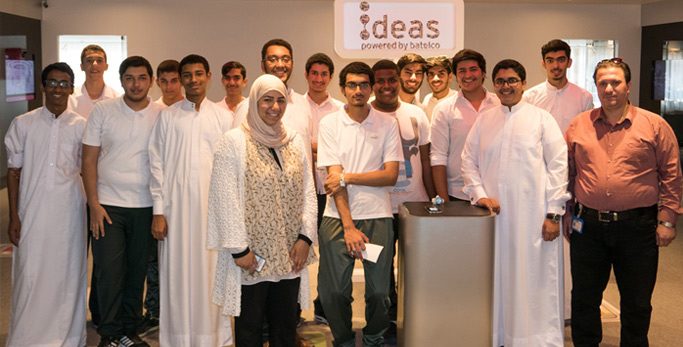 Batelco Eyalna Student Visit Programme
Commitment to Youth Empowerment Initiatives

As part of Batelco's passion towards empowering youths and its commitment to support the educational sector, Batelco has launched Eyalna Student Visit Programme. The programme has been developed to welcome students to Batelco to give them the opportunity to experience the operations of Bahrain's largest telecom operator.
During the visits, the students are introduced to the various departments and functions of Batelco to learn about how the organisation operates. Each visit includes a tour of key facilities at Batelco's Hamala campus including the Training Centre, Customer Experience Centre, Innovation Centre and Call Centre and additionally a visit to the HR Department.
Batelco's Training Centre provides Batelco's staff and visiting students with innovative learning solutions, bridging the gaps in knowledge, skills and attitude, enabling them to achieve success in their chosen careers. During the visit to the Training Centre the students learn about Batelco's fibre capabilities from the Centre's training specialists.
The Customer Experience Centre is a cutting edge facility showcasing Batelco's products and services for the Business sector while the Batelco Innovation Centre showcases the latest and emerging communication technologies. At Batelco Call Centre, the visiting students get to observe the inner workings of Bahrain's largest call centre. As career guidance is crucial for students, each tour includes a visit to the HR Department where the students can discuss career options within the telecom industry in general and opportunities at Batelco in particular.
To wrap up the comprehensive programme, the students enjoy taking photos at a fun photo booth and are each presented with a framed photo as a memento of the tour.
Batelco believes that every student deserves the opportunity to reach his or her full potential. By removing barriers, sparking innovative solutions and making connections with Bahrain's national telecom company, Batelco can help every student achieve a bright, successful future.
Batelco is well known for its support of community initiatives, with particular emphasis on programmes that provide opportunities for the development of young people. Programmes such as Eyalna form part of Batelco's commitment to the community with the aim of reaching out to all sectors to support a variety of initiatives to benefit and enhance lives.