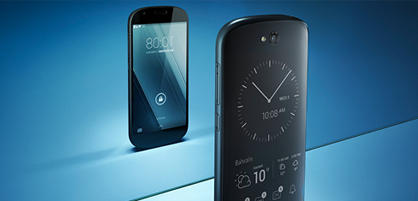 Batelco First and Exclusive Launch of YotaPhone 2 in Bahrain
**The World's First Dual Screen Smartphone is here! **
Batelco, the Kingdom's leading communications solutions provider proudly announces the arrival of YotaPhone2, the first provider in the Kingdom to deliver the much hyped device. Not only is Batelco first to deliver the amazing devices that are causing so much sensation in the communications world, but the YotaPhone devices are available exclusively from Batelco.
Slim, powerful and beautiful, YotaPhone 2 combines Android familiarity with something that has never been accomplished before: two fully touch-enabled displays with two very different personalities.
The front display is a high-definition 1080p AMOLED screen that is perfect for everyday use such as social networking, browsing, watching videos or playing games. Turn the phone around and you'll see the other front EPD screen, which uses a Yota Always-On Display that is ideal for e-reading, notifications, outdoor visibility and much more. With the EPD screen nothing is impossible to read in bright sunlight and is perfectly readable even in the brightest sunshine.
With YotaPhone you can easily keep up with important information and notifications without unlocking your phone. Customise your dashboards on the always-on screen with state-of-the-art widgets. Check the markets. Tweet and be tweeted. Check the mail. Mail the cheque. And you'll scarcely lift a finger!
YotaPhone measures battery life not in hours but in days. Expect five days' reading on a single charge, two days' basic smartphone functions with the YotaEnergy app so if you forget your charger, it doesn't matter.
YotaPhone 2 is lightweight at only 145 grams. It is also very slim (144 x 69.5 mm x 8.9 mm) and, with durable Gorilla Glass 3 on both sides, it is far from fragile. It is a mobile device that is both useful and elegant.
For the best deals in town, Batelco is offering the YotaPhone2 as part of bundled packages with five different options in the line-up. Postpaid packages include unlimited data and free on-net calls plus a range of additional great benefits specific to each package. There are also options for prepaid customers. To find out all the details, click here or any Batelco Retail Shop.
Batelco A/CEO Muna Al Hashemi said that Batelco is delighted to be the first and the only provider to deliver the keenly anticipated YotaPhone2 for the Kingdom of Bahrain.
"We are fully committed to delivering the latest devices and services to our customers with best value bundled deals that meet their sophisticated requirements."
Yota Devices Vice President for Middle East & Africa Abdul Karim Sawan said: "We believe our technology constitutes an entirely new class of mobile device, not just by integrating a power efficient electronic paper display, but by making two screens work in harmony."
"Bahrain is a key market for YotaPhone's expansion strategy in the Middle East. We believe that the second generation phone, with its unique features and our partnership with Batelco, will surely be a hit in Bahrain," added Mr. Sawan.
To be first to own a YotaPhone, customers are invited to visit Batelco's new online shop – shop.batelco.com or any of Batelco's Retail Shops located all over Bahrain.