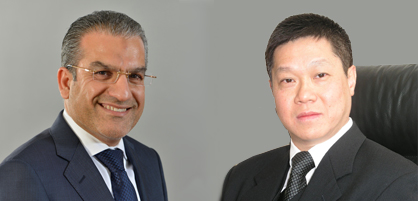 Batelco Signs New One Stop Shop Agreement at ITW in Chicago
**Extending Reach Through Partnerships with Leading Organisations**
Batelco, the Middle East regional partner of choice for international operators has signed a One Stop Shop agreement with Hutchison Global Communications Limited (HGC) on the sidelines of International Telecoms Week (ITW) which took place in Chicago, USA from May 11 to 14.  HGC is the fixed-line division of Hutchison Telecommunications Hong Kong Holdings Limited, an established integrated telecommunications operator with a solid track record in world-class telecommunications services.
Batelco General Manager Enterprise Division Adel Daylami and Andrew Kwok, HGC President of International and Carrier Business, signed the agreement in the presence of officials from both organisations. The agreement will allow both parties to extend their reach through accessing the network of the other.
Batelco has 21 active Point-of-Presence (PoP's) in the Middle East region and Europe, which enables it to extend its portfolio of global services of IPLC, MPLS and Ethernet to HGC and its customers. With the agreement in place between Batelco and HGC, each will have the opportunity to access the network of the other. Batelco can utilize HGC's extensive international network to deliver a comprehensive range of connectivity services including IPLC, MPLS and other services to customers in Hong Kong, Asia Pacific and other countries and regions covered by HGC's network. Similarly, HGC can utilize Batelco's presence across the ME region and Europe to reach its customers.
Batelco has established a strong reputation in the Middle East telecommunications industry over many years and is a trusted partner of choice for many global providers who require connectivity into and out of the Middle East and Gulf region.
Mr. Daylami said that Batelco has entered into a reciprocal one stop shop agreement with HGC to expand Batelco's international reach especially in Hong Kong and Asia Pacific regions, giving both parties diversity in terms of choice, and additionally, to support HGC's requirements for reliable connectivity in the Middle East region such as in Kuwait, Saudi Arabia, Egypt and Jordan.
"Strategic partnerships with global players demonstrate Batelco's trusted and resilient network. Batelco's capability locally and globally allows us to meet our partner's demands seamlessly, while also providing services at outstanding value," said Mr. Daylami.
Mr. Kwok said, "This partnership features HGC's extensive network reach in Asia Pacific and Bahrain, along with other regional countries such as Egypt and Jordan, has rising demand for global connectivity solutions."
Batelco Manager Datacoms Products and Services Hani Askar attended the prestigious event along with Mr. Daylami to meet with strategic partners in order to enhance existing partnerships and build key alliances with prospective new partners. Establishing and developing strategic relationships with industry experts is a key focal point for Batelco's Enterprise Division and forms an integral part of their forward thinking business agenda.
International Telecoms Week is a key meeting point for the global wholesale telecommunications community which annually attracts over 5000 delegates from thousands of companies representing 150+ countries to meet and buy/sell voice and data products and services. ITW is an event for the entire industry with participants from all areas of the wholesale industry: Tier 1, Tier 2 and Tier 3 carriers, mobile / wireless operators, ISPs, VoIP providers and technology partners from the voice, data, satellite, sub-sea and fixed line markets.
Mr. Daylami concluded by saying that events such as ITW were invaluable for Batelco as they provided excellent opportunities to meet with business partners and members of the telecoms industry to exchange knowledge and introduce Batelco's latest products and services to them.