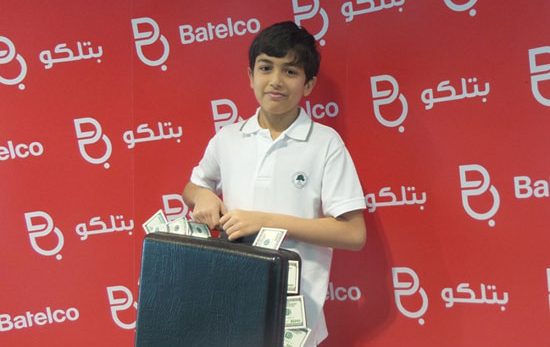 Batelco SMS Challenge Week 1 Winners Announced
**Batelco's SMS Challenge is Back for 2014 with $161,000 Cash Prizes**
Batelco, Bahrain's leading Telecommunications Company is delighted to announce the winners in Week 1 of its very popular SMS Challenge, which is back for 2014 with massive cash prizes. The Challenge began on March 10 and will run for 88 days until June 5.  Throughout the competition period there will be numerous opportunities for customers to win cash prizes from $1000 up to $50,000 as part of the total prize fund of $161,000.
In total, there will be 63 daily winners of $1000 cash prizes, 24 weekly winners of $2,000 cash prizes (12 selected in a lucky draw and 12 prizes to the top participants) and one very lucky winner who will walk away with the grand prize of $50,000 on June 9.
For week 1, the daily winners of $1000 each are A. Jalil Ahmed Buasalli, Mahdi Khalil Hassan, Mohd Tahir Mir, Anil Anant Bhagwan and Mohamed Yousif Abdulla.  Ibrahim Alhamer was the winner of $2,000 for the most accumulated points for week 1 while the winner of the $2,000 weekly prize in the lucky draw was Bope Muthubanda.
Batelco's customers can participate in the challenge by sending 'B' to 95555 to receive quiz questions and mobile content for every SMS sent. For each correct answer, the participants will earn 20 points, while incorrect or invalid answers will give them 10 points. The cost of participation is 490 fils per SMS. Please visit smschallenge.batelco.com for more information and winner announcements.