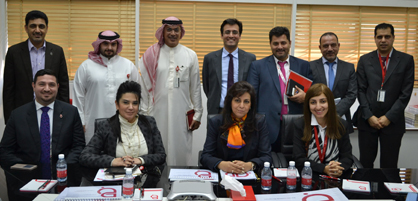 Batelco Successfully Tests Business Continuity Management Readiness
**Exercise tests ability to provide services in the event of any disaster**

Batelco, Bahrain's leading telecommunications provider, in line with its Business Continuity initiatives, has successfully completed its annual Corporate Business Continuity Management Planned Rehearsal Exercise and Testing.
The exercise is part of Batelco's proactive approach in ensuring the delivery of crucial communications services for the Kingdom of Bahrain in the wake of any disaster. To carry out the exercise it was simulated that a major fire occurred at the main stores that impacted Batelco's critical services.
As part of the testing exercise, A/ Chief Executive Batelco Bahrain, Muna Al Hashemi, declared the crisis after being briefed about the incident by GM Human Resource & Corporate Services, Suhaila Alnowakhda and Batelco Emergency Coordinator Maha Karim.
Mrs. Al Hashemi ordered the Crisis Management Team to assemble at Batelco Command Center, which is a dedicated secured location fully equipped to deal with emergency and crisis situations of this nature.
Batelco's Damage Assessment Recovery Team consists of Leaders and Coordinators from various departments such as Security, Facilities, Network, Enterprise, Consumer, Wholesale and  Finance, who performed an assessment of the crisis.
As part of a set crisis management framework, Batelco Crisis Management Team  led by the     A/Chief Executive Batelco Bahrain, determined the impact of the 'crisis', in collaboration with the Damage Assessment Recovery Team, and agreed a proposed plan to deal with the situation to ensure the continuity of crucial telecommunications services for the Kingdom.
During this simulated exercise, Batelco teams demonstrated that should the need arise, then they could together succeed not only in protecting the physical safety of employees and the local community, but also safeguard the interests of the Company's wider stakeholders.
Batelco holds annual Business Continuity Plan rehearsals which involve the Crisis Management Team with the support of several Batelco employees across the Company.