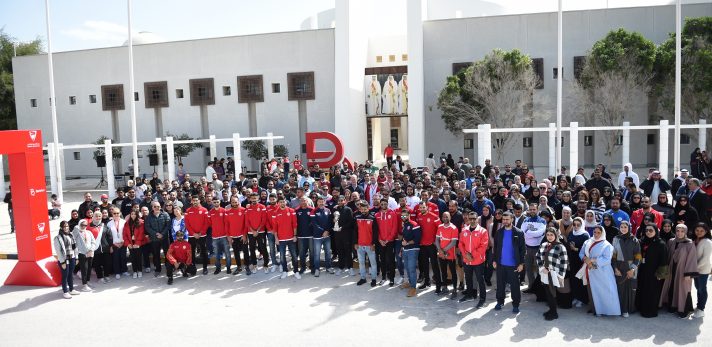 Bahrain National Football Team Participates in Batelco Sports Day
Batelco, in line with its commitment to support national events and to engage its people in fun activities, and in accordance with the Government's decision to allocate half a working day to National Sports Day 2020 as organized by the Bahrain Olympic Committee, Batelco held its annual sports day at its Hamala headquarters.
Bahrain National Football Team joined Batelco's celebrations and led employees in a Walkathon, which was the biggest in Batelco's history. Batelco's CEO Mikkel Vinter and a number of the executive management welcomed the team players and management.
The attendance of the National Team in this year's event added a very special atmosphere and gave Batelco's staff the wonderful opportunity to take commemorative photos with players and with the Gulf Cup trophy, while Batelco's famous song for the National Team played, reminding all of the joy of Bahrain's historic win in the Gulf Cup.
In addition, the Company held a number of different sporting events and activities that played a role in creating an interactive and competitive sports atmosphere among employees, such as the final of Batelco's football tournament, lectures and sports classes arranged by Pure Fit Gym. Furthermore, a number of company employees who represented Batelco in the Iron Man 70.3 Middle East Championship shared their experience and encouraged those wishing to participate in this year's event, by providing tips and ways to prepare.
Batelco expresses its commitment by actively participating in the National Sports Day and believes in the role of this event which aims to instill a culture of fitness and health in the Kingdom of Bahrain.