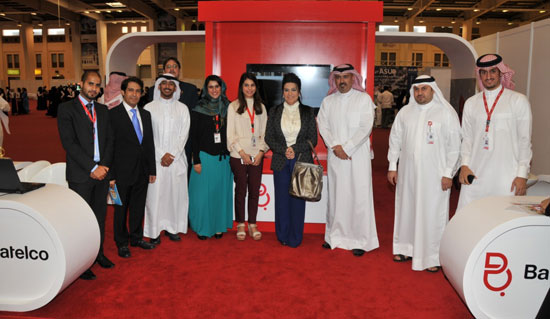 Batelco Golden Sponsorship Supports Career Expo 2013
**Successful Event Presented Opportunities for Jobseekers and Graduates**
Batelco, as part of its commitment to youths and education, was proud to be the Golden sponsor for Career Expo 2013 which was organised by the National Society for the Support of Education & Training (NSSET). The three day annual event took place recently at the Bahrain International Exhibition Centre (BIEC). The Expo was hailed a great success, attracting over 25,000 visitors and participants from scores of organisations across all industries in the Kingdom of Bahrain.
Batelco Bahrain General Manager Human Resources & Corporates Services Suhaila Alnowakhda and Head of Human Resources and Union Relations Shaikh Bader Al Khalifa attended the event along with a number of other officials from Batelco. Representatives from Batelco's HR Division were availabe throughout the event at the Batelco stand to provide career information to interested job seekers and graduates.
Mrs. Alnowakhda said that Batelco is a very keen supporter of the youth of Bahrain particularly when it comes to education and careers.
"As a major employer of Bahraini's, Batelco is supportive of events that provide career guidance advice to young people. Our team of HR professionals was delighted to meet numerous potential future employees at our stand to provide advice and answer questions about careers in the telecommunications industry,"  Mrs. Alnowakhda said.
Batelco's sponsorship programme provides support to a wide range of education, health, sports and cultural initiatives every year.