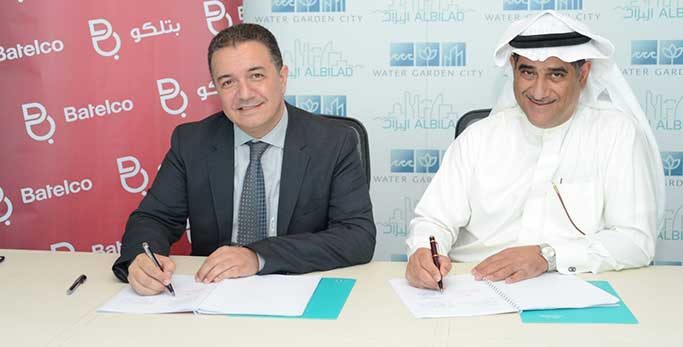 Batelco Signs Communications Network Deal with Albilad Real Estate Investment Company
**Deal will see delivery of hi-tech fiber based communications network for Water Garden City**

Batelco, Bahrain's leading digital solutions provider has signed an agreement with Albilad Real Estate Investment Company for the provision of the latest communications services at its development, Water Garden City. The agreement was signed by Batelco Bahrain COO Abderrahmane Mounir and Albilad Real Estate Investment Company General Manager Zeyad Janahi, at a recent meeting held at Albilad Real Estate's premises at the Bahrain Financial Harbour.
Water Garden City is a private development rising off the North Shore of Bahrain, and sits adjacent to the Seef district – the heart of Manama's social centre. It is a mixed-use community, consisting of residential, commercial offices, retail, leisure, restaurants, hotels, marina, and open public spaces; everything needed to live, work and relax in a thriving, cosmopolitan community.
Batelco's solution is based on open standards fiber technology, which will allow advanced triple-play communication services to be extended to the development's end users. Services such as ultrafast broadband, fixed telephony and IPTV services form part of the solution offered. The agreement, a turnkey design and build contract, will also be fully operated and maintained by Batelco.
Batelco Bahrain CEO Eng. Muna Al Hashemi said that Batelco is very pleased to sign the agreement with Albilad Real Estate to provide advanced communications services for the Water Garden City development.
"The new project aims to provide world class facilities and we look forward to working alongside the developers to ensure the highest level of communications services to support their efforts," Mrs. Al Hashemi added.
Commenting on this major project, Batelco's COO said: "Batelco has accumulated vast ICT and communications experience and knowledge over the years, and has become a proven experienced business enabler trusted by business customers. This has differentiated Batelco as a leading provider of state-of-the-art business solutions and support services."
"Batelco's ability to deliver ICT solutions for the largest and most critical requirements has gained the company a regional and global reputation, which makes it the first choice for international companies setting up operations in the Kingdom of Bahrain," added Mr. Abderrahmane.
Following the signing ceremony Albilad General Manager Zeyad Janahi said that Albilad is very pleased to conclude this contract with Batelco which is a leading digital solutions provider in the region.
"We have concluded this negotiation with them following a tender and an extensive assessment by our development team and initial designs carried by the project consultants.  We are determined to provide a world class service to our project developers and are fully confident that Batelco can provide such up to date solutions to the project," Mr. Janahi concluded.
Over many years, Batelco has played a pivotal role in the country's development as a major communications hub and today is the leading digital communications' provider, continuing to lead and shape the local consumer market and the enterprise ICT market.