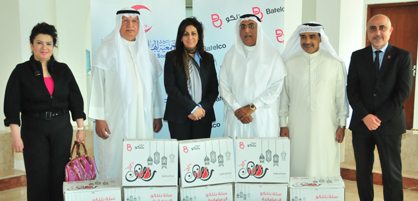 Batelco A/CEO Visits Bahrain Red Crescent Society
**Batelco Delivers Ramadan Baskets to Bahrain's Charities**
Batelco Bahrain A/CEO Muna Al Hashemi was delighted to visit Bahrain Red Crescent Society as part of Batelco's annual distribution of Ramadan Baskets to Bahrain's Charities. During the meeting Mrs. Al Hashemi met with Society Director General Mubarak K. Al-Hadi and General Secretary, Dr. Fawzi Abdulla Ameen. Also in attendance were Public Prosecution Director General Forensic Science Evidence, Dr. M. Al Khayyat, Batelco Bahrain General Manager HR & Government Services Suhaila Alnowakhda and Batelco A/GM Consumer Division Ebrahim Al Sayed.
Batelco is currently in the process of distributing 30,000 Ramadan Baskets to the Kingdoms' charitable societies as part of its annual donations programme. The Charities will soon begin to distribute the baskets to needy families across the Kingdom as preparation begins for the Holy Month of Ramadan.
Each basket weighs about 10 kg and includes essential foodstuffs that are traditionally in high demand during the Holy Month. They will be delivered to families who have been identified by the charities as needing extra support during the holy month.
Mrs. Al Hashemi said that Batelco is proud to work hand in hand with Bahrain's charities each year to distribute the Ramadan Baskets.
"Organisations such as the Bahrain Red Crescent Society do a great job in supporting those in need and their efforts at all times especially during Ramadan are much appreciated by the local communities. We are delighted each year to support their efforts," added Mrs. Al Hashemi.