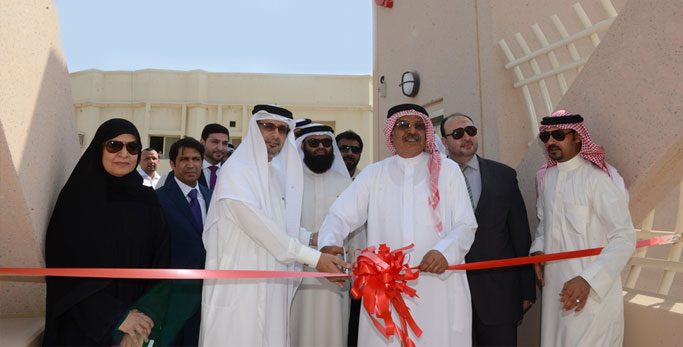 Batelco Funded Riffa Pedestrian Bridge Officially Opened
**Batelco and Ministry of Works, Municipalities & Urban Planning Officials Attend Ceremony**
Batelco Chairman Shaikh Hamad bin Abdulla Al Khalifa joined Ministry of Works, Municipalities Affairs & Urban Planning Undersecretary Dr. Nabil Abu Fath, to officially open the Batelco Pedestrian Bridge in Riffa which links the Southern Governorate and Central Governorate.
The bridge has been funded by Batelco which is one of the leading philanthropic organisations in Bahrain, at a cost of BD350,000 and is in line with the Company's commitment to support initiatives that benefit the community.
Batelco's Chairman Shaikh Hamad expressed his delight at seeing the major project completed and opened to the public.
"Riffa has grown enormously in size in recent years and the area where the pedestrian bridge is located is among the busiest areas, with a huge amount of pedestrian traffic crossing the very busy main road. The new Batelco Bridge will ensure everyone can cross safely while not disrupting the flow of traffic," he said.
Dr. Abu Fath said that he was very proud to participate in the opening of the bridge and praised Batelco's efforts and national role in key projects to meet the needs of citizens.
"Based on the recommendations of the Municipal Council of the Municipality of the Southern region to provide better services for citizens, the Ministry was delighted to move forward with its efforts to ensure the safety of pedestrians crossing between the two sides of the busy Riffa main street."
"The project, funded by Batelco at a cost of BD350,000 is among the leading projects and is in line with the Ministry's efforts to achieve sustainable urban development through the improvement of public utilities and infrastructure services," Dr. Abu Fath added.