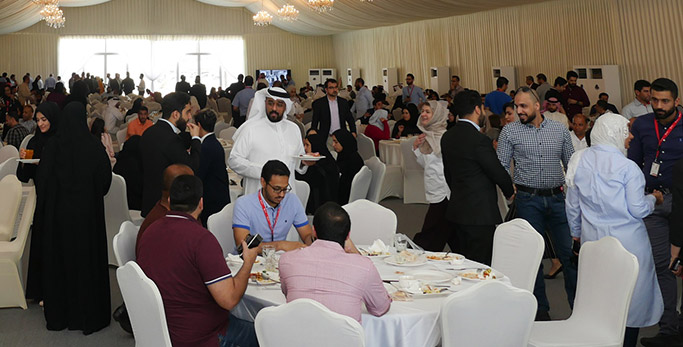 Batelco Hosts Breakfast for Employees in Celebration of Labour Day
Batelco hosted a special breakfast for its employees to celebrate the occasion of Labour Day. The event took place on Tuesday April 30 at the Company's Headquarters, in Hamala.
Batelco arranged a luxury marquee especially for the occasion in order to receive all employees in a sumptuous location worthy of this important event which is dear to all hardworking residents in the Kingdom of Bahrain in general and Batelco in particular.
Batelco organized this event as part of a series of events for its employees who are the main pillar of the company and one of Batelco's key success boosters. The employees have proven their worth over the years resulting in the company's successful performance and achievements.
The management of the company is keen to show appreciation to the employees in events and ceremonies that provide the opportunity for all employees from different departments and roles to meet and interact.
The celebration for Labour Day began yesterday, when all of the company's employees were surprised by the delivery of luxurious boxes of chocolates with a special invitation to attend today's celebration. Around 800 employees were welcomed at the marquee with a family atmosphere and a delicious breakfast which included a wide range of international cuisines.
To conclude the day of celebration, the final match in Batelco's internal football tournament, which has been running over several weeks, took place with the exciting final being attended by a huge number of staff.
Batelco General Manager Human Resources Faisal Al Jalahma said: "This event is an essential part of the company's human resources strategy, which focuses on improving the employee's experience in the company, investing in the development of the leadership of the digital age, and working to make Batelco the first choice employer for young national talent.
"Batelco's success is dependent on the collective efforts of all employees and their work in the spirit of collaboration. We are very proud of all employees and very pleased to take this opportunity to thank them for their efforts to advance Batelco and for the advancement of the Kingdom," he added.