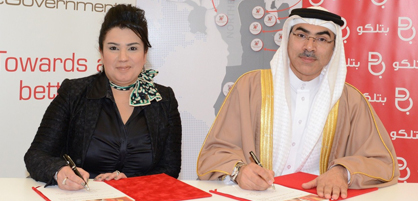 Batelco Signs Agreement with e-Government to Support Qudara'at Programme
**Partnership to Benefit Youth Segment**

Batelco, Bahrain's leading Communications Solutions provider has signed a one year partnership with the Bahrain e-Government Qudara'at Programme to benefit youths by the provision of training opportunities.
Batelco Youth Marketing Team  is the Diamond Sponsor of the nation-wide Qudara'at Programme, which is an empowerment programme developed to train participants on the know-how of technology, internet and ecommerce via the e-government portal.
The agreement was signed by Batelco Bahrain General Manager HR & Corporate Services Suhaila Alnowakhda and eGovernment Vice CEO Dr. Zakariya Al Khaja on the side-lines of the IT Expo following the opening ceremony at the (BIC) Bahrain International Circuit on Tuesday 17th March.
As part of the sponsorship deal, Batelco will be providing special packages for all trainees with exclusive offers that include free on-net calls and unlimited Data and in addition home broadband services. The trainees will also avail of training opportunities at Batelco's Training Centre in Hamala.