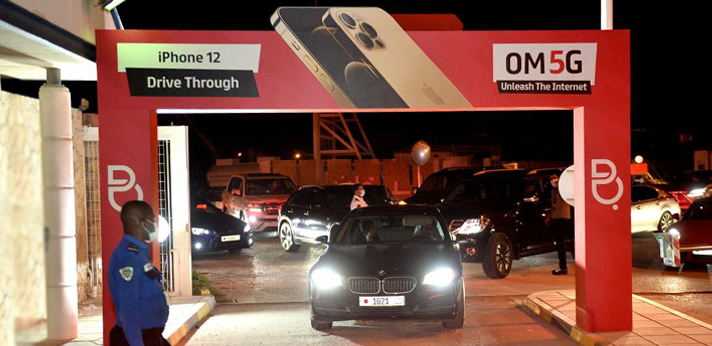 Batelco Hosts First of its Kind Event for Launch of New iPhone 12
Manama, Bahrain: Thursday night, Batelco's headquarter campus in Hamala saw around 300 customers line-up to be the among the first to collect the new iPhone 12. The event was attended by Batelco's executive management team, including CEO Mikkel Vinter who personally handed the new iPhone to the first Batelco customer that night.
The event is in line with the official launch of iPhone 12 in Bahrain, which is the first Apple device to support 5G network. iPhone 12 features an Apple-designed A14 Bionic chip, new dual-camera system and edge-to-edge Super Retina XDR displays for a more immersive viewing experience. Batelco offers the complete iPhone 12 lineup, which includes iPhone 12 Pro, iPhone 12 Pro Max, iPhone 12, and iPhone 12 mini, with a range of Postpaid 5G package options.
Commenting on the launch, General Manager Consumer Division Maitham Abdulla said, "At Batelco, our customers are our top priority and we are committed to providing them with the latest devices available on the global market, as well as offering a variety of packages and exclusive benefits, designed to meet their needs."
Mr. Abdulla also added, "Despite the current circumstances, we were keen to mark the launch of the long-awaited iPhone and bring our customers together while adhering to social distancing measures. With Batelco's national 5G coverage in Bahrain, covering 95% of the population, customers will be able to experience the full potential of the iPhone 12."
"We anticipated the high demand on the iPhone 12 and made available a number of pick-up options including retails shops at different areas in Bahrain, plus the Drive-Thru option, which we have implemented for the first time and turned to be a success." Mr. Abdulla concluded.
The car park at the Batelco campus was converted into a Drive-Thru ground, with coffee stations and Drive-Thru lanes for Batelco's customers queuing in their cars to receive their chosen devices. Batelco iPhone fans who had registered their interest with Batelco were invited to arrive at 11pm to enjoy refreshments and receive complimentary Batelco-branded items as they waited to collect their phone.
Batelco's first iPhone customer, Fawaz AlAmer who received the phone during this Drive-Thru event said, "I was very excited to come and try the drive-thru pick-up option which was organized by Batelco, and to be the first to receive the iPhone. I found the experience smooth and simple, as I was able to complete the process and collect my phone conveniently from my car. I also felt safe at the same time especially during the current circumstances."
The iPhone 12 devices are now available at Batelco shops in City Centre, Enma Mall in Riffa and Hidd.