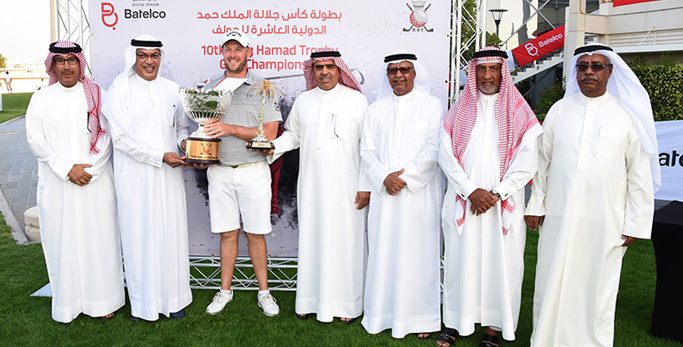 Batelco Sponsors H.M. King Hamad's 10th Golf Trophy
Bridging Stronger Ties with the Community
Batelco Sponsors H.M. King Hamad's 10th Golf Trophy
Batelco, as part of its strong CSR programme and inspired by its strategic focus to support community driven initiatives, has sponsored the 10th edition of H.M King Hamad's Trophy Golf Championship, organized by the Bahrain Golf Association, which took place at the Royal Golf Club, Riffa from 16 to 18 November.
Batelco Group General Manager HR and Development Shaikh Ahmed bin Khalifa Al Khalifa was in attendance for the prize presentation.
Bahrain's leading digital solutions provider, Batelco, was the main sponsor for the event for the 10th successive year. A large number of players from a number of regions including Bahrain, the GCC and Europe took part in the annual event, which was hailed as a huge success.
Following the event, Shaikh Ahmed praised the organisers for their efforts in running the tournament which does much to promote golf in the Kingdom and said that Batelco was delighted to help contribute to the success of the event.
"The event serves to promote Bahrain as a sporting and tourism destination with facilities that compare favourably with those in leading international destinations. The Montgomery designed course at Riffa is among the leading courses in the region and reflects the high standards that the Kingdom strives to uphold," he added.